Do you know ghostwriting is a well-paid job and you can earn a handsome amount working from home? Also, it saves you the time of promoting your work and you can start a ghostwriting business. But do you have an idea who is a ghostwriter? What a ghostwriter does? How much a ghost can earn? How to become a ghostwriter? And importantly, what skills are required for it? Well, you are in the right place. Let's get quickly into finding the answers.
Who is A Ghostwriter?
A writer who writes or composes a literary or artistic piece of work and does not get the credit for that work. But in return receives monetary remunerations. Ghostwriting includes writing a letter, email, personal statement, book, e-book, blog posts, website articles, or dissertations. Ghostwriting is also known as ghosting.
Is Ghostwriting a Contract?
When a person hires your services for ghostwriting content you are obliged to follow the terms and conditions of ghosting. And as a ghost, you cannot publish the work with your name subsequently. Indeed, there can be supplementary conditions too of the contract. Just like other agreements a ghosting contract has two parties. An "author" or a client who receives the services of a freelance writer and a "ghostwriter" who delivers the services and takes consideration. In addition to obtaining the monetary benefit, the freelance writer and the client both can cut other deals with each other. such as;
Gross payment according to the flat rate of the writer
Credit in the book as a co-author or editor
Half payment of the flat rate at the start and other at finishing the project
Some payment at the start and a valuable percentage of profit in the earning of the book after publication
What A Ghostwriter does do?
As a ghostwriter you don't necessarily write a new literary work, the author or client may hire you for re-writing, editing, proofreading, co-authoring, and composing an artistic creation. For instance, someone offers you to write a fiction story for their website and they would publish it with their name instead and you'd get paid for this job.
Ghosting is common practice with students these days who hire the services of others to write their assignments, research papers, and dissertations. The ghostwriter is primarily a freelance content writer or another student who needs to make money.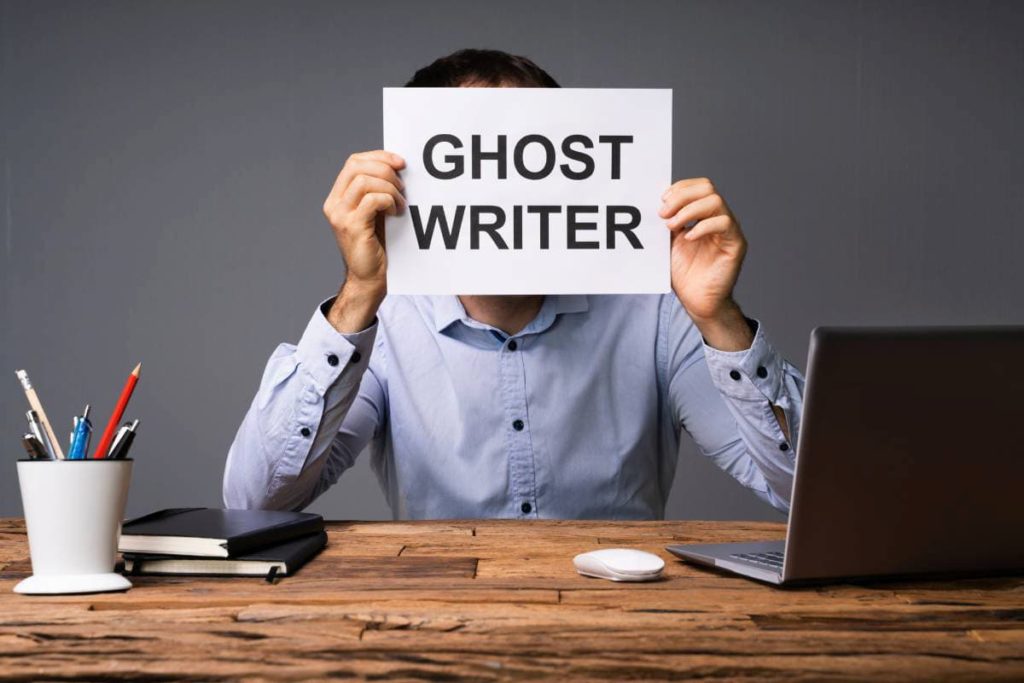 Not just students but also politicians, lawyers, business persons, influencers, bloggers, and writers need ghost freelance writers. They write them books, memoirs, legal documents, blog posts, web articles for their products and merchandise, and also official briefs and memorials. A ghostwriter performs a multidimensional task according to the need of the client.
A famous 2010 Hollywood movie, The Ghost Writer of Roman Polanski can help you understand who is a ghostwriter and what they must not do.
How Much a Ghostwriter Earns?
The trickier and frequently asked question that how much a ghost freelance writer earns. Well, it depends on the project magnitude and your flat rate. Before that, it is pertinent to mention if you are new to freelancing you may be earning a basic salary. Gradually, if you put legit efforts into it, you can start your freelancing business later. But for that, you have to read often and widely.
Similar to other professions if you are an experienced freelance writer, you will charge more. And once you start getting contracts for ghostwriting content you can make $3k to $5k per month easily. For instance, Kelly James-Enger is running a successful ghostwriting business and she revealed her average income from ghostwriting. It was;
$20,000 for a 60,000-word health book
$15,000 for a 40,000-word business book
$12,000 for a 55,000-word memoir
$25,000 for an 80,000-word nutrition book
Mind it, these are for book writing only. If you write blog posts, website articles, or emails the average income will be less comparatively but still a handsome amount.
Now, let's get into the primary question hereunder.
How to Become a Ghostwriter?
It is important to keep in mind that ghosting doesn't mean writing books or memoirs of politicians only. If you are writing for a website and not receiving the credit you are also a ghostwriter. Here are some of the basic tips on becoming a ghost.
1.      Start Freelancing Job as a Writer or Editor
We all have a friend who does freelancing or knows someone who is into freelancing. To start your ghosting business, you must know the drill of content writing and need to get prior experience. Contact your friends and ask them about freelance writing opportunities or find them on job boards like Contena and All Freelance writing. If you have the potential of writing and want to write you will get the opportunity. It's up to you how much you make it worthwhile.
On the contrary, you may get into literary editing work. It's another recognized field in freelancing. Remember Hillary Clinton gave credit to her ghost editor in her book.
Picture
2.      Build Your Cliental
When you get into the market of freelance ghostwriting your only recognition is your work. Once you write good content for one person, they recommend you in their circle. And a chain starts building. You start getting contracts. It builds your clientage and profile. And for this;
Listen to them actively
Help them to achieve their purpose of writing
Follow the deadline strictly
Stay cooperative
3.      Stay in Touch with Your Clients
Making clients may be easy but maintaining it is a bit herculean task. Significantly, building and maintaining a healthy relationship with your client is important in the very field. Because if you helped them with a good literary piece of work, they are likely to contact you again.
4.       Start Your Business of writing
Once you have a good clientage you can start your freelancing business.
5.      Write your book
This thing is going to give you an edge over the others. especially, when the client or author needs to write a book. Politicians mostly require ghostwriters for writing their memoirs because they lack the time or are not good at such writings.
Such as Donald Trump hiring Tony Schwartz to ghostwrite his book. And such people prefer renowned freelance ghostwriters who are book authors too.
Skills you need to be a ghostwriter
Lastly, here are some of the skills you need to be a ghostwriter
Ask your client's requirements
Know how to write for others
How to work in a limited time given
Have command of the language in which your client needs you to write
Publicize your ghostwriting skills on your social media.