Small business email marketing recommendations, to help you dominate and launch an email marketing strategy for small business in 4 simple steps.
Introduction:
Email marketing is the practice of communicating with customers via email. Because it provides open, dialogical, and interactive conversations, it is a crucial tool for expanding your business in the quick-paced world of online commerce. And it help businesses to promote.
Email newsletters, often known as ezines, are the most widely used type of email marketing. Additionally, daily specials emails, solo blasts, advertising, follow-up emails and autoresponders, and more are all examples of permission-based email marketing.

Popularity of email marketing can be attributed to its relative simplicity, ease of implementation, and low cost. When done correctly, it can also result in considerable financial gain.

The idea behind email marketing strategy for small business is that you, as a business owner, should compile a list of subscribers, clients, and customers who are interested in hearing from you. Then, to keep on their minds and increase sales, you constantly promote to them by email.
Email marketing strategy:
Regardless of your industry, assistance of email marketing strategy for small business is cultivating better client relationships and strengthening their brands in order to increase conversions and growth.

Small business owners frequently believe that email marketing is either unsuitable for them, ineffective, or simply too expensive. The opposite is true, as you can see!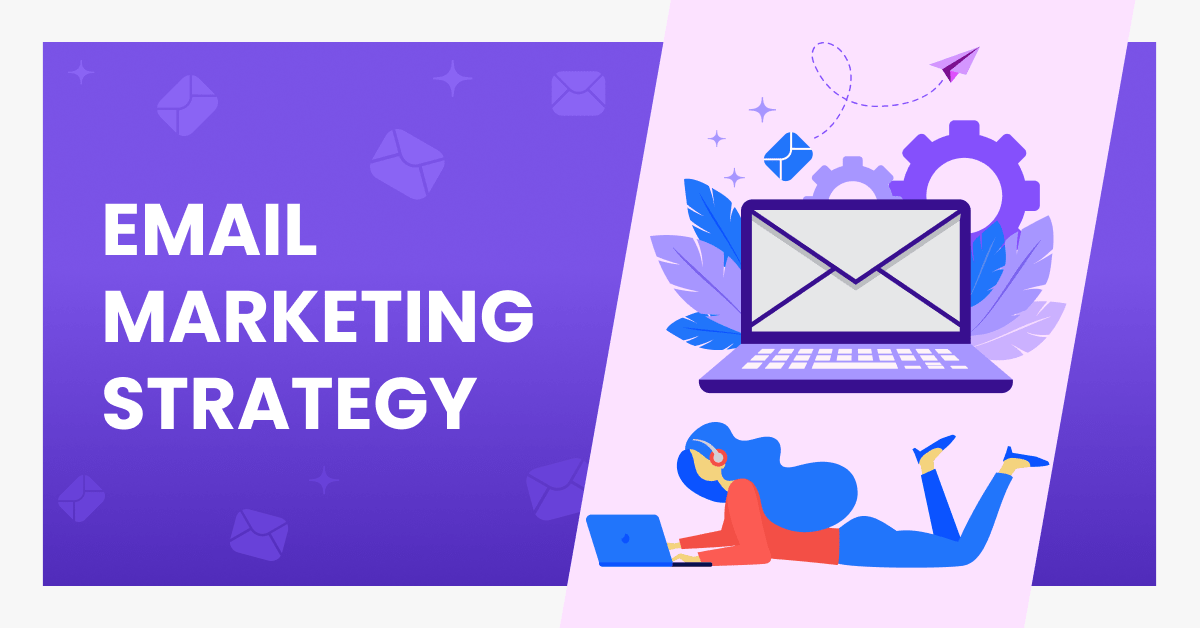 The four main components of an effective email marketing strategy for small business are as follows:
List building for email

Choosing the types of emails, you'll send in advance

Designing and writing emails

launching the campaign and reviewing the outcomes
Here are 10 ways email marketing can help your business grow:
Is email marketing still vital given how other digital marketing tactics have changed? This is a common query.

Simply said, absolutely. You may improve sales at a low cost by reaching and connecting with your target audience with a great power of email marketing approach. Email marketing solutions make it easier than ever for your business to connect with clients, just as other platforms and media have changed.
Here are my top arguments for the value of email marketing and how it may benefit your company:
Stay in contact with your audience:
Emails have the power to inform your clients. Customers have the option of checking their email whenever it suits them. They may get the impression that you are thinking of them as a result. The subject line of this email need only read, "Hello, you're on our mind, here's a wonderful offer!" or "Let me give you a quick report on what's been going on around here lately." People who subscribed to your email list have already agreed to receive these messages.
Reach customers in real-time:
54% of all emails were opened on a mobile device, according to Litmus. Any marketing strategy should take this into consideration as it is important. Customers are increasingly accessing all forms of media and information on their mobile devices, including emails.

Additionally, compared to other media, well-designed emails have the highest conversion rates on mobile.
People engage with emails:
Email has been a medium of communication for a very long time more than 40 years, in fact. As the years have passed, email has quickly risen to the top of our list of preferred methods of communication. Every one of us has been trained in some way to respond to emails.
Whether it is to comment, forward, delete, click through to another embedded link, purchase something, or sign up. With emails, we often take action. With this knowledge, you may use email to encourage people to visit your website, call you, or respond to any other call to action. In actuality, it was responsible for nearly 25% of sales last year. The impact of email marketing is so tremendous in our business.
Increase brand awareness:
No, there are other platforms as well that aid in raising brand awareness for businesses. The fact that you have a customer's or prospect's email address indicates that they were interested in your company. By remaining top-of-mind, it enables you to raise that interest level and brand awareness.

This does not imply that you should email each and every consumer four times per day. Actually, doing so is a wonderful way to turn off clients. Try the power of email marketing instead to advertise your involvement in the community. Companies attempt to sell their goods via email marketing far too frequently, entirely ignoring the importance of brand awareness.
Conclusion:
As a marketer, you have a variety of channels at your disposal to reach your audience, but you must priorities your efforts due to a lack of time and money.
Email marketing strategy for small business is unquestionably the most efficient way to draw in customers, keep them interested, and build relationships in order to increase sales and revenue for your company for all the reasons mentioned above.
In order to improve sales and money, start using email marketing to your benefit right away.